Airblast Supports Apprentice Engineers with Vintage Fire Engine Restoration
In March 2019, a small group of young engineering apprentices stood shoulder to shoulder in a Lincolnshire workshop admiring a pristine vintage Merryweather fire engine. The vehicle had been painstakingly restored to the condition it would have been in when it first rolled out of the factory in 1930.
This small group of young trainees had finally managed to complete an ambitious restoration project that they originally accepted four years earlier. With a little help from Airblast Eurospray and several other supporters, they were able to achieve something that surpassed everyone's expectations.
The Background
The story started in October 2015, when a young man named Sam Lowe was taken on as an apprentice with Cummins Generator Technologies in Stamford. He would spend three days a week in a job placement, learning about the various departments and roles in the company. One day a week would be spent in college. The fifth and final day would be spent in the workshop, tackling a larger, more practical project.
Sam's apprentice group reached out to Burghley House, a celebrated local Elizabethan tourist attraction, and ask if they had any machinery in need of some TLC.
When the Burghley Estate showed them the fire engine, they accepted the challenge and committed to restoring it to its former glory within two years.
---
Setbacks and Challenges
Early in the project, the team received a small donation from the local Rotary Club and some pots of paint, but for the most part they were forced to use their initiative to find ways to complete the job.
Sam's team decided to paint the vehicle by hand. After completing the gruelling sanding and painting work, they came to the crushing realisation that the quality of the finish was not acceptable.
Hand painting, the team now realised, was clearly not the answer. At this demoralising moment, apprentices decided to reach out to Airblast Eurospray for advice.
Airblast offered to help by introducing the team to several processes that had the potential to improve the speed and quality of their work and help them to deal with the challenges themselves. Most of the vehicle's panels were wooden, so shot blasting wasn't an option here.
For these parts, Airblast suggested chemically stripping the paint to prepare the surfaces. For the steel components, shot blasting was the ideal method, so Airblast Eurospray introduced the team to its blast cabinets for smaller parts and blast rooms for larger pieces.
For brass components, Airblast introduced the team to bead blasting, which is a less abrasive method designed to give brass components their shine back. With these modern techniques in their arsenal, the team was able to achieve a far superior finish.
With all the surfaces prepared, Airblast taught the apprentices how to use its spray booths to repaint the various components. Airblast Eurospray's experts spent the time to ensure that the team was able to use all the equipment safely and efficiently, imparting knowledge and teaching skills that Sam and his team would go on to use time and again for years to come.
---
The Power of Perseverance
With the project now drawing to a close, Sam and his team have accomplished something significant: they have restored this beautiful example of vintage engineering to a condition that no living Stamfordian has ever seen before.
The team has since gone on to use the skills they learned at Airblast on other projects. Airblast is proud to have had the opportunity to support these young apprentices on their journey to becoming accomplished engineers.
Sam hopes that his team's accomplishment will be something of a beacon, reminding to other young people about the value of science, technology, engineering, and mathematics (STEM) education and about the power of perseverance.
"As we approach the end of the journey, I think we are very different people now than we were at the start," Sam told us. "Some of us are still attending college classes. Others have moved on to placements.
"Even though there were tough, and occasionally even demoralising, moments on the project, the commitment we had made to Burghley House far outweighed any other consideration."
We asked Sam what thought would happen next: "My hope is that whenever the fire engine makes an appearance in the future, be it at a classic car show or a parade, it will act as a reminder to other young people that a determined and resourceful group can, with support and guidance from experts, achieve something significant – even when experience is lacking."
---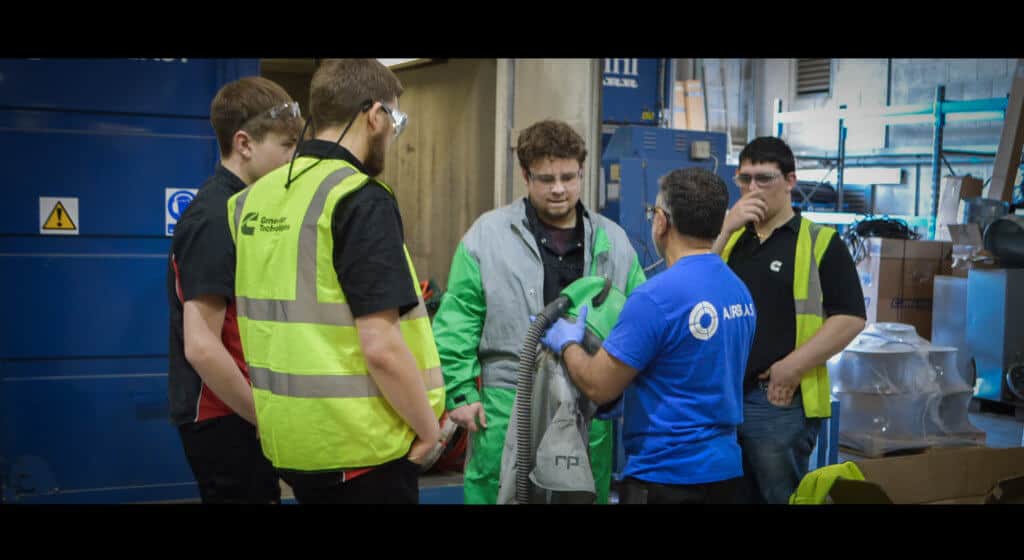 To find out more about Airblast Eurospray's training services, take a look at our training page or call us on +44 1778 560 650 to talk to our experts directly.
---