HP-Line Shot Blasting Machines
The HP-line of hanger pass shot blasting machines is designed for mono hanger rails. These machines are commonly used for heavy duty construction, agriculture, automotive, and structural steel. They are ideal for fully automated production plants.
These machines can be used in wet and powder paint lines and are also available in custom build versions.
Download our Shot Blasting Machines brochure here, or browse our full range of product brochures here.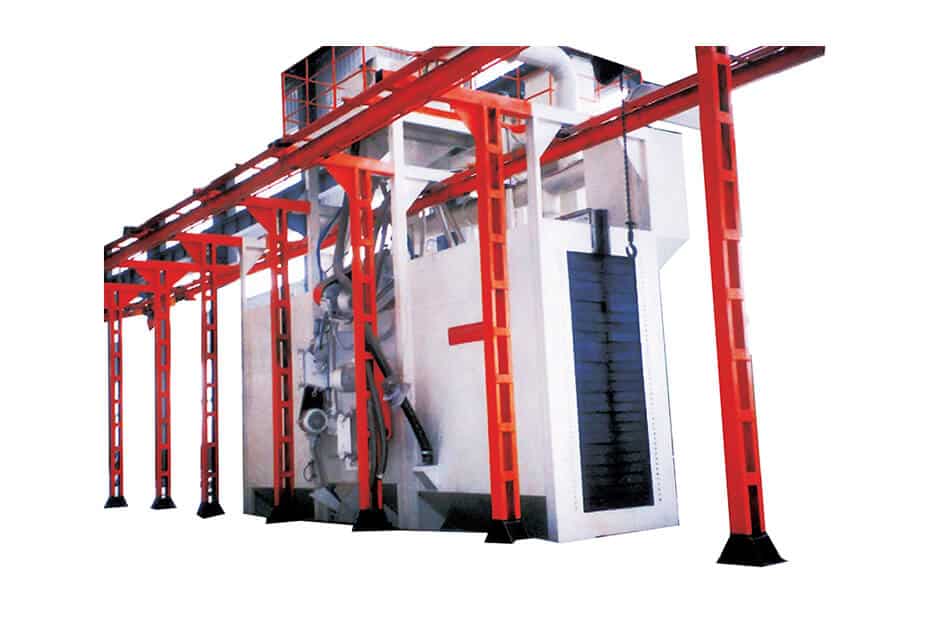 | Type | MR383/MR483 | MR385/MR485 | MR4810 |
| --- | --- | --- | --- |
| Cleaning workpiece size (dia in mm) | 800 x 1200 | | |
| Number of workpiece position | 2 | 2 | 2 |
| Quantity of impeller head | 4 | 4 | 6 |
| Impeller head volume (kg/min) | 4 x 250 | 4 x 250 | 6 x 250 |
| Impeller head power (kw) | 4 x 15 | 4 x 15 | 6 x 15 |
| Max. hanging weight (kg) | 300 | 500 | 1000 |
| Productivity hanger (/h) | 30 – 60 | 30 – 60 | 40 - 60 |
| Cleaning workpiece size (mm) | 7680 x 2000 x 2900 | 7680 x 2000 x 2900 | 7680 x 2000 x 3800 |
| Total Air rate volume (m3/h) | 17000 | 19000 | 19000 |
| Power (except for dust cleaning) (kw) | 73.15 | 73.15 | 114.72 |
| Type | MR583 | MR585 | MR5810 | MR588 |
| --- | --- | --- | --- | --- |
| Cleaning workpiece size (dia in mm) | 800 x 1500 | 800 x 1200 | 1300 x 2800 | 550 x 2200 |
| Number of workpiece position | 2 | 3 | 2 | 2 |
| Quantity of impeller head | 4 | 6 | 6 | 4 |
| Impeller head volume (kg/min) | 4 x 250 | 6 x 360 | 6 x 330 | 4 x 480 |
| Impeller head power (kw) | 4 x 15 | 6 x 22 | 6 x 22 | 4 x 22 |
| Max. hanging weight (kg) | 300 | 500 | 1000 | 800 |
| Productivity hanger (/h) | 40 | 55 | 50 | 30 |
| Cleaning workpiece size (mm) | 3062 x 1800 x 2800 | 8500 x 1800 x 3885 | 8500 x 2300 x 4800 | 6800 x 2600 x 3325 |
| Total Air rate volume (m3/h) | 16000 | 18000 | 18000 | 17200 |
| Power (except for dust cleaning) (kw) | 74.5 | 186.85 | 186.85 | 121.05 |