PB-Line Shot Blasting Machines
PB-Line shot blasting machines (inner and outer) and designed for pipe blasting. They are suitable for the surface treatment of internal pipe and related applications. These machines are available in different sizes for various industries such as oil and gas, steel stockholders, and the food industry.
The 45Kw power turbines on these machines make them suitable for high production plants. The transport system makes it possible to work with various sizes in the process.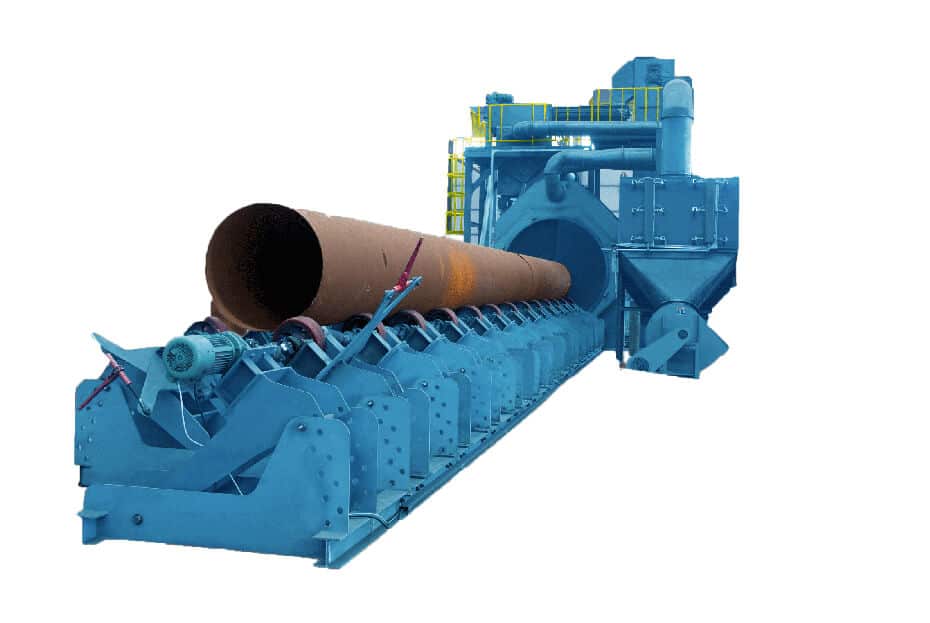 | Type | Cleaning size (diameter mm) | Cleaning speed (m/min) | Purposes |
| --- | --- | --- | --- |
| OPB100 | 50 – 300 | 2 – 10 | Outer wall of of shot blasting machine |
| OPB720 | 159 – 720 | 2 –6 | Outer wall of of shot blasting machine |
| OPB1200 | 219 – 1016 | 1 –6 | Outer wall of of shot blasting machine |
| OPB1500 | 325 – 1600 | 1 –6 | Outer wall of of shot blasting machine |
| OPB2800 | 1016 – 2800 | 1 –2 | Outer wall of of shot blasting machine |
| IPB100 | 50 – 300 | 1 –4 | Inner wall of shot blasting machine |
| IPB700 | 325 – 720 | 1 –2 | Inner wall of shot blasting machine |
| IPB1000 | 720 – 1016 | 1 –4 | Inner wall of shot blasting machine |
| IPB1500 | 1016 – 1500 | 1 –4 | Inner wall of shot blasting machine |